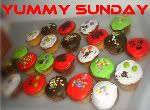 Today is the start of the newest meme – Yummy Sunday. I am so excited because I would be one of the pioneer participants of this weekly meme and aside from that hubby cooked our favourite special dish during lunch – Shrimp in Buttered Soup!

For appetizer, I had a cubed bean curd in native vinegar. I am the only who eats this since my hubby doesn't like the smell. I have big eyes but I like eating Chinese delicacies.

Thanks to Janet for inviting me to join her newest meme. To join us, please click on the banner above. See you entry soon!